Battery Monitors Used on Batteries for
Forklifts, Tuggers or AGVs
GNB Industrial Power announces a necessary retrofit for its Battery Monitor model numbers V290200160B, V290200169BA, V290200169BAX2, and V290200169CBA, which were manufactured by Bassi. A failure can occur when conductors on the battery monitor degrade, potentially causing an electrical spark coming in contact with battery gases and creating a risk of a fire. The battery module (BMOD) is connected to GNB Industrial Power's lead batteries, which are commonly used in forklifts and may also be used in similar material handling equipment such as tuggers or automated guided vehicles. (See image below.)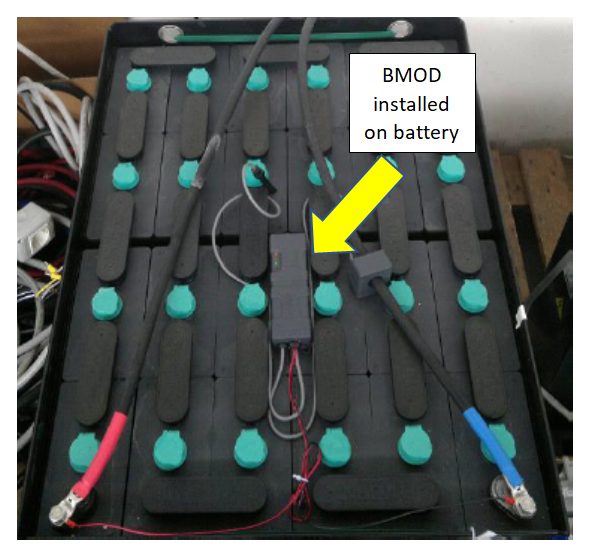 Only battery monitor model numbers V290200160B, V290200169BA, V290200169BAX2, and V290200169CBA manufactured by Bassi are affected by this Safety Notice. The affected BMODs were installed on opportunity and fast charge lead batteries distributed by GNB Industrial Power from June 1, 2017, through June 30, 2020. The typical life expectancy of the batteries with the affected BMODs is 3 to 5 years, so we anticipate many of the affected BMODs may have been discarded, but we encourage users that have any of the affected BMODs in service to please contact us for repair.
What To Do:
Retrofit: GNB Industrial Power will send service technicians to your facility to install a retrofit kit to the battery monitor. The service visit and retrofit kit will be provided to you at no charge.
Contact us:
If you have any of the affected battery monitors still in service, please contact GNB Industrial Power as soon as possible to schedule a service call so our qualified technicians can install the retrofit kit.
In the meantime, if your vehicle has one of these BMODs in it, we recommend that you immediately take steps to reduce your risk by keeping your equipment away from flammable materials or ignition sources and parking the affected vehicle(s) in an isolated but monitored area, if possible.